Order - The forester's rifle stick. Goods and services
The perfect personal gift for a hunter - Gifts for the deer stalker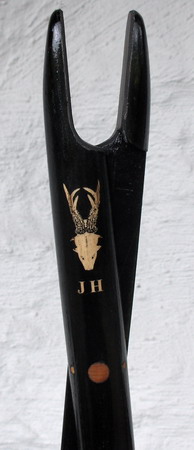 Rifle sticks Gift card Engraving Sling
You can phone directly to the workshop and order, +46 72 2 199 288
I am sorry to inform my customers in GB that I will wait and see how Brexit
will work before I can sell and deliver to you :-(
You are also welcome to send your request with info(at)skydestok.dk
If you would like personal service, please contact us Monday - Friday 8 - 16 UTC+1.
Remember to consider the following questions:
Witch model and colour do you want?
Which length do you want the rifle stick to have?
Do you shoot from your right or left shoulder?
Should it be engraved? With initials, roebuck etc.
Do you need anything else like a sling?
Do you want to have the goods delivered or are you collecting it here?

Rifle stick for left handed
If we do not here anything else your rifle stick will be made for someone who shoots from their right shoulder.
Please remember to specify if you shoot from your left shoulder.
You will then have a rifle stick that is easier to open with your right hand.

The forester's rifle stick - a gift for a hunter
Here you can get the perfect gift for the hunter who thought he or she had everything!
Please order as soon as possible to assure that gifts can be delivered in time.

The best choice you can do for the climate is to choose products made out of wood!

The standard colour is Mahogany or dark green. You can also get a camouflage pattern for
14£ extra (15€).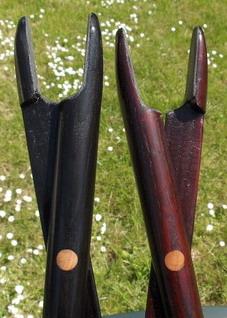 Model
Bipod - The Forester's rifle stick
Bipod - The Forester's rifle stick
Monopod - walking stick
Species of
wood
Ash
Ash
Ash
Length, cm
All
Max. 125 cm.
All
Length, in
All
Max. 49.21in.
All
Colour
All colours,
see colour chart
All colours,
see colour chart
All colours,
see colour chart
GBP £
179
161
from 72
EUR

€

198
179
from 79
Please notice that all orders has to be paid in advance.
Freight
Please contact us for information on cost for freight.
You are also of course welcome to collect your goods here after appointment.

Freight
Package
Freight in all
UK, GBP £
80>
9
89>
IRELAND, EUR

€

90>
10
100>
BELGIUM

€

80>
10
90>
SPAIN

€

90>
10
100>

You can save money by ordering several rifle stick to be sent in the same package.
Engraving
Personalize with initials, mark or coat-of-arms.
Initials
Date
Year
Text pr. letter
GBP £
5
5
5
1
EUR

€

5
5
5
1
Initials, roebuck, boar Chamois, mufflon, woodcock

£ 63 € 69

Drawing, mark, logo
Coat-of-arms
Ask for an offer
Line engraving
£ 63

€ 69
It costs the same, if you order the laserengraved initials with or without my drawings (roebuck, boar, Chamois, mufflon or woodcock).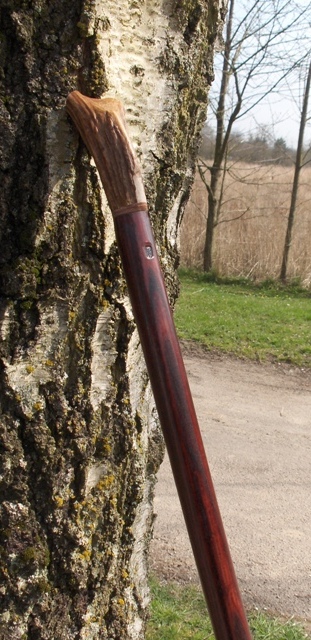 Sling
The rifle stick sling is used when dragging a deer etc. or as support to wooden bipod. The sling is for the moment only available in green webbing.
CYLINDER
Protective cylinder in 13 mm (0,51 in.)
grey plastic
foam. Length up to 200 cm. (78,74 in.)
Included in package when sent by
freight.

GBP £ 7
EUR € 8

SLING
Heavy sling in green cotton with a loop for the bipod.
Also used for transport of a deer. Also used as
the third leg together with the rifle stick.
Can be ordered with a brass snap hook, to be
used as a combined strap and dog leash.
Handsewn.


Webbing 25 mm x 4 mm. (0,98 x 0,16 in.)
Length 2,3 m. (Length 7,55 ft.)


OUT OF STOCK FOR THE MOMENT!

GBP £ 14
EUR € 15


For initials add £ 5 € 5

For mounting a snap hook add £9 € 10


Accessories for care and mending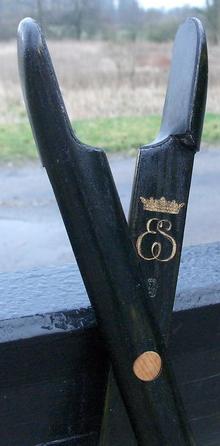 Freight will be added.
Care set

Rubber repair set
3/4 l. Junkers Rustik oil for surface
maintenance (1,31 pt)
50 ml. Stock oil for the bolt (1,75 fl oz)
Brush
1 can Vaseline
Sandpaper
2 rubber patches
1 tube of contact glue


GBP £ Day price

Day price

EUR

€ Day price

Day price

The workshop, coating, renovation and reparations
Also a rifle stick will over the years be used and worn down. In the workshop you can extend the life of the bipod. Freight will be added.
Recoating
Renovation
Reparations
The surface is grinded
and it is recoated
with Junckers Rustik oil.

Rubber, bolt, split pin and
magnets are checked and are
renewed if necessarily.
The surface is grinded, mended,
restained and recoated.
The staining result can differ to
some extent from the original
staining.
Everything from
mending to severe
damages as crack and split.
GBP £
52
Ask for an offer
EUR

€ 39

58
All prices are based upon the Swedish price list and the Swedish krona (SEK). The prices will follow the exchange.


The Swedish price list is valid until further notice. Changes in in the cost for package, freight and engraving can occure.
Swedish VAT is included in all prices.